Filed by Myka Fox

|

Jun 19, 2014 @ 12:10pm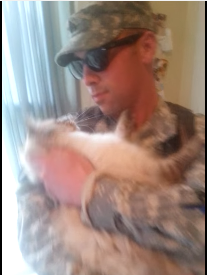 A love worth fighting for. (via YouTube)
It is easy to imagine the one thing a soldier wants when he returns from war. This soldier was just coming home from a drill, though, so he had to settle for the cat.
At first the video is just a lot of anticipatory meowing while the girlfriend, wildlimeyogi, talks to the Finn the cat. If you want to skip to the good stuff, the soldier makes it through the front door at 0:57.
Oh no, don't get up to help me with this stuff, honey. Just keep filming the cat. You aren't filming my face are you? Oh, just when the cat is in the frame? Perfect. Still filming? Oh you're filming the other cat that doesn't give a shit? That's great honey.
(by Myka Fox)