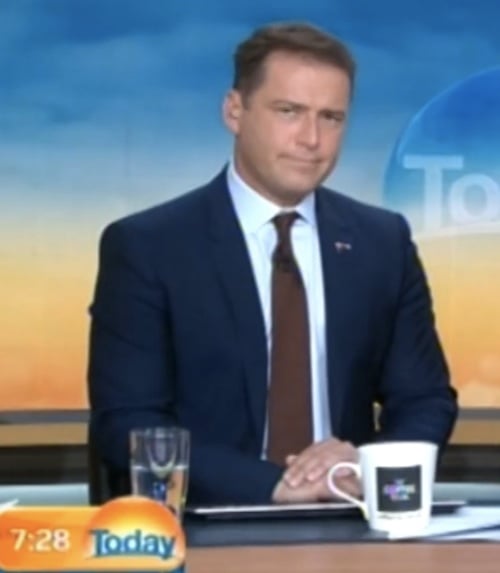 Just one man in one suit trying to change the world. (screengrab via Today)
Karl Stefanovic, anchor for Sydney's Today program, revealed over the weekend that he has worn the same navy suit almost every single day for a year to make a point about sexist attitudes toward news anchors.
Stefanovic told Fairfax Media that he decided to conduct the experiment because of the many comments his female co-anchors got about their dress and hairstyles—not only on television, but even while they were out running errands and living their lives.
"Women are judged much more harshly for what they do, what they say, and what they wear," he said. Unlike them, he felt he was judged based "on how I do my job, basically."
Viewers would often email or Tweet comments about what co-host Lisa Wilkinson was wearing, but as for Stefanovic's suit, "No one has noticed; no one gives a shit." Well, now people are noticing and the response seems to be overwhelmingly positive. Let's hope viewers start making an effort to submit snarky comments about the wardrobes of both sexes. Progress!
Here's every outfit Karl and co-host Lisa wore this year:
(by Shira Rachel Danan)