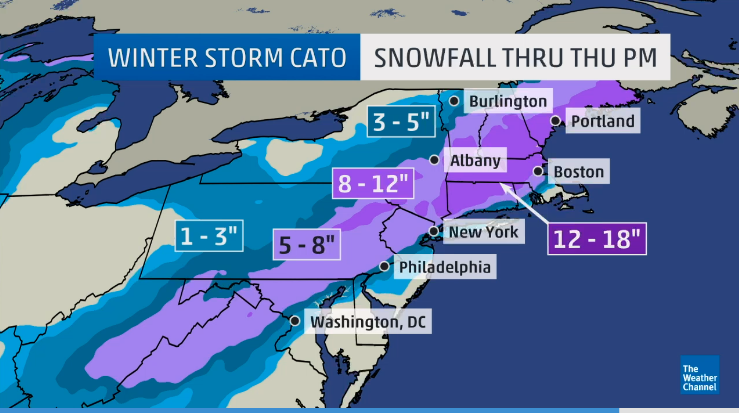 Trust me, dad. It looks much worse from the inside of this bar. (Via The Weather Channel)
Good news for everyone on the east coast who is dreading their holiday family reunions, the best of all excuses is coming your way! And for everyone who is really looking forward to traveling to see the family the suspiciously moved so far away from, who are you? What is your family like? Can I have Thanksgiving with you guys?
The National Weather Service has declared that the east coast is getting its first major snowstorm of the year (Buffalo's lake-snow debacle doesn't count, I guess), and it is coming just in time to ruin everything. They are calling this nor'easter Winter Storm Cato, and he is my new best friend.
Gawker is reporting that there will likely be cancellations and delays, so if you haven't given your family your flight information yet, just tell them you were on one of the ones that was cancelled. Call them from the airport (with the right mood, any bar can be an airport) and tell them you are hustling from desk to desk trying to get on the next flight out of town but, wouldn't you know it, everything is just so packed because it is Thanksgiving. Darn. You really wanted to go this year.

Snow will touch down Wednesday morning in Washington D.C. and hit NYC by mid afternoon. Major hubs like New York and New Jersey can expect six to eight inches of snow by end of day Wednesday, and up to a foot by Thanksgiving, as well as a "trace of ice."