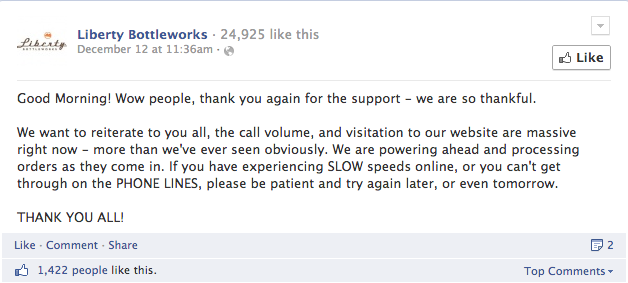 The system works...in really weird ways!
This past week an irate customer's post on a water bottle company's Facebook page went viral after the company founder scolded the woman for expecting their employees to be on call at all hours of the weekend during the holiday season. It turns out that Facebook trouncing of an irate customer ended up boosting the company's sales so much, they're now having trouble meeting demand.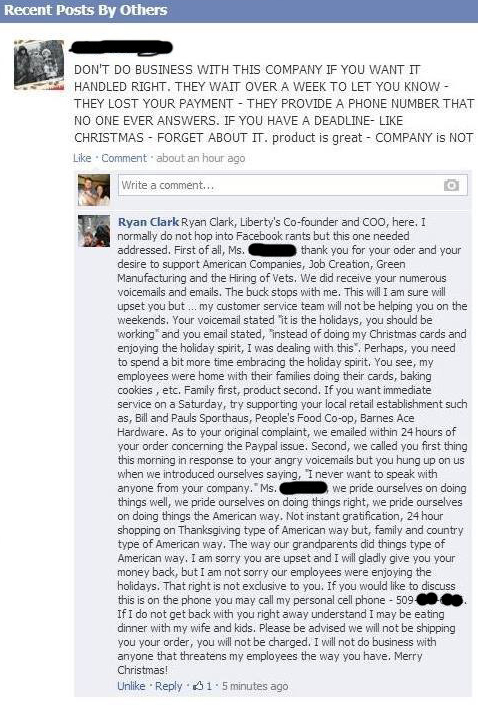 Liberty Bottleworks's COO Ryan Clark's comment was tailor-made for Internet virality, not only for trouncing an overly-demanding customer, but its declaration of family and country being valued more than making the next sale is exactly the kind of thing that will be shared far and wide. We at first thought it could be fake. We've been hurt before by an entitled customer's public humiliation turning out to be a hoax. But the customer's subsequent comments on her interaction with company lent merit to some of her complaints, making it seem this was a legitimate spat and not some kind of viral marketing attempt.
Whether she was 100% in the wrong or only 60% or 70% didn't matter in the end. On Thursday morning, two days after we ran the post, Liberty posted to their page thanking everyone for their support and warning them of more delays in processing orders, this time because they'd been inundated with new business in light of the comment battle. "The call volume, and visitation to our website are massive right now - more than we've ever seen obviously," Liberty wrote on Facebook. "If you have experiencing SLOW speeds online, or you can't get through on the PHONE LINES, please be patient and try again later, or even tomorrow."