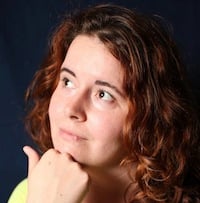 Filed by Aimee Lutkin

|

Jan 18, 2016 @ 9:00am
At 14, Girl Meets World star Rowan Blanchard is already curating her Twitter and Instagram feed, writing articles for magazines, and preaching about feminism. Today's new young stars have to be so freakishly self-possessed! She's also expected to speak to her sexuality in a public way at the time most people are figuring out where their butt is (it's a totally normal phase, relax). On Saturday, she tweeted this to her 300,000 followers:
There were some follow-up questions, like what, and how, and who. Basically, it seems like Blanchard is open to anything even though her heart has mostly only ever yet quickened for male-identified people:
@phippstea yes open to liking any gender in future is why I identify as queer

— Rowan Blanchard (@rowblanchard) January 16, 2016
If this seems brave, keep in mind that in December, Blanchard actually spoke out against "squads" in an interview with Just Jared Jr., saying:
Of course female friendship is a beautiful thing. It's insanely powerful...Sisterhood is something so valid and important when you are growing up that I literally think the essence of it should be taught in schools. But the 'squads' we see in the media are very polarizing. Feminism and friendship are supposed to be inclusive, and most of these 'squads' are strictly exclusive.

It makes feminism look very one dimensional. Feminism is so multi-layered and complex that it can be frustrating when the media and the celebrities involved in it make feminism and 'squads' feel like this very happy, exclusive, perfect thing...There's so much more than that. 'Squad goals' can polarize anyone who is not white, thin, tall, and always happy.