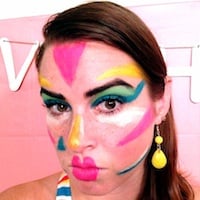 Filed by Ashley Bez

|

May 23, 2015 @ 10:34am
Ireland held the first ever nation-wide vote to legalize gay marriage yesterday. The "Yes" side has claimed victory.
Say yes to love. And to jackets made of rainbow flags. And to great hair.
(via Twitter/Twitter)
In what is a historic day for gay civil rights, Ireland has just become the first nation in the world to legalize same-sex marriage by a popular vote. The combination of high voter turnout and thousands of Irish ex-pats flying #HomeToVote helped push the outcome toward supporting the 'yes' side. Votes are still being counted but both sides have said the results are clear: Ireland supports marriage equality.
I hope we replace the export of St. Patrick's Day with the much better holiday of Legalizing Gay Marriage Day. As is customary in these types of epic situations, people on Twitter are justifiably going bonkers.
Minister of State Aodhán Ó Ríordáin called the victory early, then followed with a real gem of a tweet.
I'm calling it. Key boxes opened. It's a yes. And a landslide across Dublin. And I'm so proud to be Irish today. #MarRef
— Aodhán Ó Ríordáin TD (@AodhanORiordain) May 23, 2015
Ireland hasn't just said "Yes"... Ireland has said: "F❤️CK YEAAHHHH"
— Aodhán Ó Ríordáin TD (@AodhanORiordain) May 23, 2015
Twitter Queen J.K. Rowling had something to say, as usual.
Sitting here watching the Irish make history. Extraordinary and wonderful.
— J.K. Rowling (@jk_rowling) May 23, 2015
Even conservatives like David Quinn, who campaigned against same-sex marriage, tweeted his support for the nation's decision.