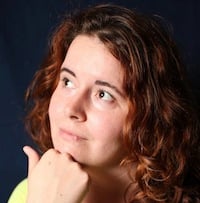 Filed by Aimee Lutkin

|

Nov 18, 2015 @ 10:22am
Kayden Coleman is a transgender man who had been transitioning for over ten years when he discovered he was pregnant. For five of those years he'd been taking testosterone, so he thought pregnancy was impossible. One night Kayden was feeling some bloat and back pain, and joked with his partner Elijah that maybe he had a bun in the oven. They laughed and then like 20 seconds later were at the drug store getting a pregnancy test. Kayden later had it confirmed with a doctor—he was already 21 weeks along!
How did this happen? Ordinarily, testosterone would prevent pregnancy, but in preparation for a double mastectomy, Kayden had to stop taking it for about 6 weeks. He didn't realize that would be enough time for the effects of the testosterone to wear off. But it was! Soon little Azaelia joined them:
A photo posted by TheColemans (@thecolemanfam) on
The two were obviously surprised and it put a big wrench in their life. They weren't sure how to explain a newborn without explaining that Kayden is transgender. Not everyone was accepting when they found out. Elijah told The Daily Mirror: