Filed by Myka Fox

|

Jun 09, 2014 @ 1:33pm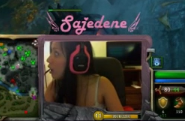 Her top tower was under attack -- and so was her home. (via YouTube)
An armed robber broke into the home of Nikki Elise, AKA Sajedene, as she was playing DOTA 2 on Twitch.tv, and the whole thing was caught on live stream. You can hear some commotion in another room of her Phoenix, AZ home and a look of shock before she gets up to find out what is going on. Moments later we see the robber enter the room with a gun and leaving again with a few items.
It took some time before her teammates realized anything was wrong when they were informed of it on the Twitch chatroom. The gunman ended up taking several items from Elise's home, including some of her own guns, before turning off the lights and shutting down the webcam. You can see the whole video here:
A reporter who happens to be friends with Elise wrote on Twitter that she is "shaken but okay."
I can confirm that @Sajedene & @SUNSfanTV are ok. Very shaken up but ok.

— Matthew Bailey (@Cyborgmatt) June 9, 2014

Her Twitch channel has remained down since the robbery, the battle just got too real.
(by Myka Fox)