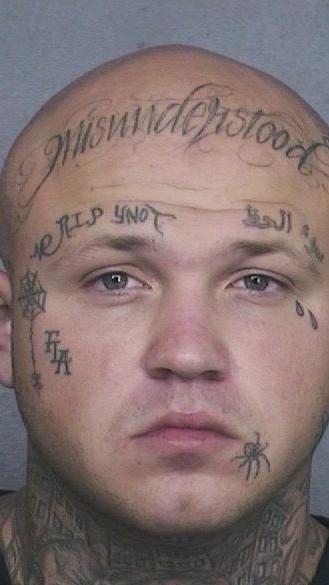 You'd be misunderstood too if every time you tried to talk a spider crawled in your mouth.
(Via Broward Sheriff's Office)
Sometimes it isn't so bad being misunderstood. Say, for example, if you were robbing a bunch of beach-goers, you might want to be misunderstood as someone innocent.
Jonathan Warrenfeltz, 24, was so desperate to be understood, he tattooed "Misunderstood" in cursive across his forehead after being released from prison on February 1st. No room for misunderstanding here, this guy is super crazy.
And I don't say he's crazy because of his super crazy face tats, though that would be fair, but also because he took his super crazy face tats to the beach and robbed people in the light of day.
According to the reports, Misunderstood Warrenfeltz, his friend Joshua Zeaya, and two women (super crazy identifiable face tats are such a major turn on) went to Florida's Dania Beach where they held up five people at gunpoint. They made off with $1500 worth of property, then raced off to a motel 6, made a wrong turn, and inexplicably threw the stolen stuff out of the car along the way.
"After the [suspects] took off they started throwing property out of the vehicle until they reached Motel 6," Detective Marcos Toledo explained the trip to the Sun Sentinal. They didn't find the rifle, but a search of the vehicle found the victims' credit cards, wallets and a backpack.