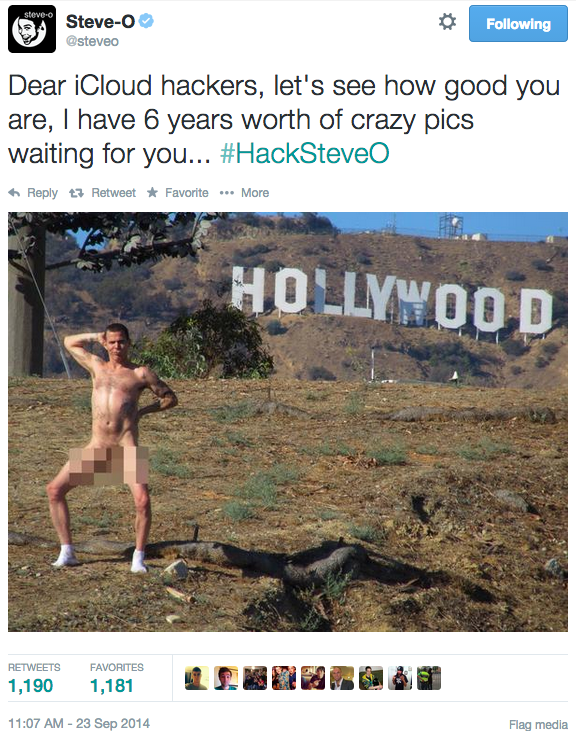 He's not the ally that anyone asked for, but he's the ally that we've got.
Steve-O is either doing something admirable or something kind of stupid and insulting, or more likely, he's doing both. Steve-O has launched a new social media campaign called #HackSteveO that is aimed at taunting hackers into breaking into his iCloud to find his dick pics. On the one hand, this is a show of solidarity with the women hacked in the CelebGate hacking scandal and he's trying to spoil the fun for the hackers by presenting them with a target that they can't upset. On the other hand...
I want to know if the hackers are really good, or if the hacked are really dumb. #HackSteveO

— Steve-O (@steveo) September 23, 2014
Steve-O is obviously best known as perhaps the most reckless of the Jackass members, yet since becoming sober and getting some mental health treatment in 2008, he's tried to be more of a comedian than just a stuntman (although his comedy tour did end every show with him lighting his head on fire and another guy spitting lamp oil on it). He's involved himself in animal rights issues (he was wanted by the police for defacing a SeaWorld road sign), but maybe he's ready now to jump into the middle of human issues, like the celebrity hacking scandal.
I just added lots of crazy nude photos to my iCloud, let's see how good these hackers really are! #HackSteveO pic.twitter.com/phwSTrJLAi

— Steve-O (@steveo) September 23, 2014