This family worried about the very worst thing that could happen to their child, and then made it happen.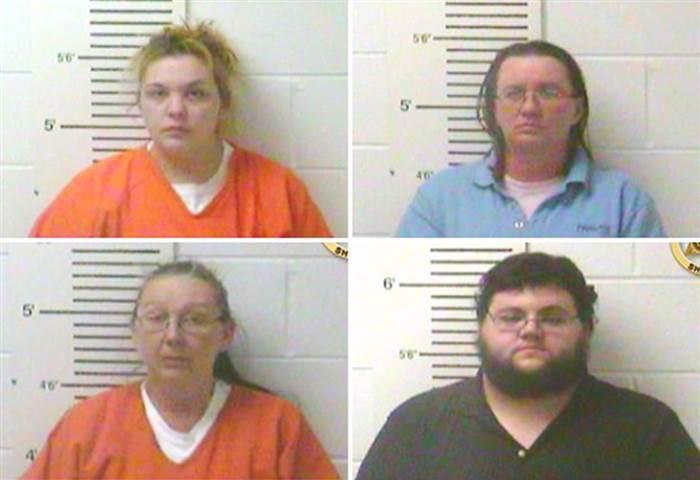 This is what happens when you don't have Alice in the middle to balance your family photo.
(via Lincoln Country Sheriff's Office)
The family of a 6-year-old Missouri boy had him kidnapped, tied up, threatened with a handgun, and told he could become a sex slave, all to "teach him a lesson about being too nice to strangers."
According to police, the boy's aunt, Denise Kroutil, 38, recruited her co-worker Nathan Wynn Firaved to help the boy's mother, 25-year-old Elizabeth Hupp, and grandmother Rose Brewer scare the child out of his innocence.
On Monday, Firaved kidnapped the victim after he got off the school bus.

The little boy was told he would "never see his mommy again," and that he would be "nailed to the wall of a shed."
Firoved threatened the boy with a handgun, bound his hands and feet with plastic bags, blindfolded him with a jacket, and took him to the basement of the boy's own home.
Once there, the boy's own aunt crept into the basement and removed the boy's pants, telling him he "could be sold into sex slavery."
The torture went on for four hours before he was brought upstairs and told thatthis was all an elaborate ruse to teach him about Stranger Danger.
At some point, this is not a kidnapping hoax, this is just straight kidnapping.
Are they trying to warn him about strangers, or teach him he should never become an international spy?