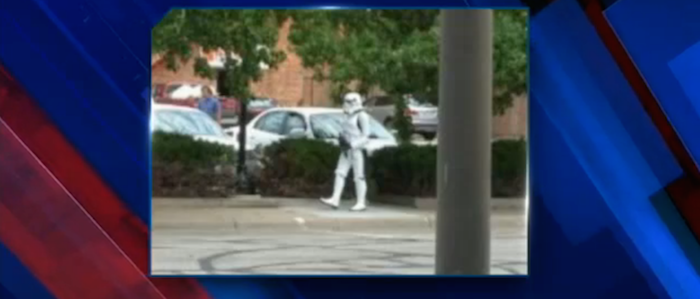 Just an open-carry patriot of the Galactic Empire. (via KWCH12)
The 100 block of S. 7th Street in Salina, Kansas was put on lockdown last week after the employees of a nearby business called police to warn them about a man roving around wearing armor and a gun.
White plastic Stormtrooper armor, that is. Clearly, the fine folks over at Action Travel (who placed the call to police) don't know much about Star Wars, or they would have remembered that Stormtroopers very rarely shoot anyone, even when they try. You'd also think Action Travel employees would be more familiar with the culture of the 70s and 80s, since those were the last times people used travel agencies.

The sales force can have a strong influence on the weak-minded.
The Stormtrooper in question was Jimmy Johns manager and aspiring Vine star Chris Burns. Burns has a Vine channel called Stormtrooper Sam, about a broke, laid-off Stormtrooper looking for work on Earth after the fall of the Empire.
Unlike the employees of Action Travel, police recognized the iconic outfit when they showed up. Nonetheless, Burns says they still tried to make him stop. "They said, 'If you walk around like that people will call us,'" said Burns, "I said, 'I'll be seeing you a lot I guess.' I knew I wasn't doing anything illegal." Ah, telling people not to do things because it might inconvenience an officer—how will Stormtrooper Sam ever adjust to living here on Earth?

Is that Salacious B. Crumb wandering around at the bottom?
I hope the new Star Wars movies come out soon, because this has taught me that enough time has passed that the general population is starting to forget the stupid stuff that nerds expect them to know. More than anything else, though, I learned that if you want people in the media to discuss your Vine channel, do it in Kansas. If you're making art in the American equivalent of Tatooine, they will write about how you've attracted over 200 followers, they will go into your character's backstory, and they will discuss how "[he] has posted seven videos but said he plans to eventually make longer videos as he develops the character."

So that's how Stormtroopers join the Emperor's Royal Guard.
For a washed-up clone from a family with the worst marksmanship in the galaxy, it appears Stormtrooper Sam is actually capable of scoring a hit.

I'm starting to think the Empire would have won with more flexible armor.
(by Johnny McNulty)