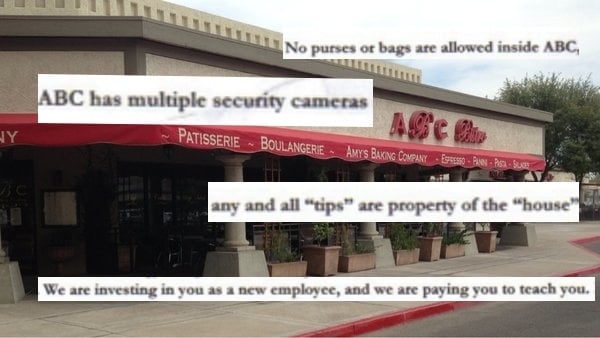 Sounds tempting, but I'm leaning toward taking that job cleaning Port-o-Potties at the demolition derby.
The savvy, level-headed folks at Amy's Baking Company popped up in the news again. You remember them from their Kitchen Nightmares episode, and their can't-fail social media campaign following the Kitchen Nightmares episode:
In an effort to stay "on brand," the official Amy's Baking Company employee contract was just leaked by Radar Online, and guess what! It's rather unreasonable!
The 20-item contract goes to great pains to give the impression of a working environment slightly more oppressive than the one in that Matt Damon movie coming out later this summer where he gets beaten up by robots for telling jokes. Amy and Samy Bouzaglo seem convinced that their servers and kitchen staff are trying to work there solely to embezzle food and use their secrets to open their own business and send it into a massively public tailspin of bad press and childish outbursts. Just a few of the items include:
"No purses or bags are allowed inside ABC, (exceptions may be made) however upon leaving a designated employee of ABC has the legal right and consent to inspect any and all packages that you may have brought with you." (We've waited tables before and the only thing anyone stole were sips of people's drinks while carrying them to the table.)