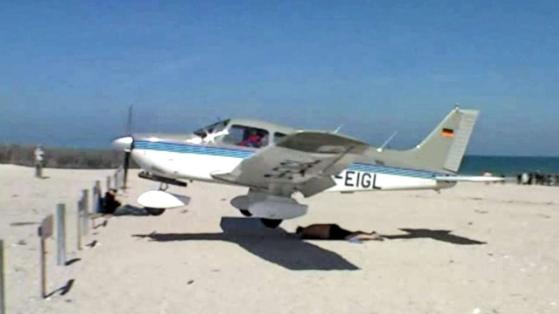 So close, and yet, so foreign. (via Bild)
A small plane narrowly missed a sunbather as it crash-landed in Heligoland, a small island in northern Germany. The beach is located just next to a landing strip, and Dr. Rainer, the man who filmed the crash, told German newspaper Bild that he had seen several planes go by without incident. Only, those planes were six meters higher.
The pilot of the plane says he could not see the bather, and the bather noticed the plane approaching only seconds before the crash and quickly pressed himself against the sand, escaping the plane by centimeters.
The pilot and the plane's passenger walked away from the plane without injury, and the sunbather is fine too, although maybe with something else to think about besides whether Bugs Bunny was attractive when he dressed up like a woman.
(by Myka Fox)