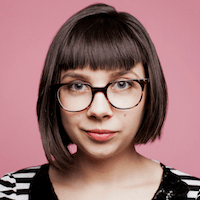 Filed by April Lavalle

|

Jun 27, 2016 @ 2:00pm
Comedian Aziz Ansari wrote an op-ed for the New York Times on Donald Trump that, unlike all the other stuff he makes, is really not funny. Ansari, who is the son of Muslim immigrants, spoke candidly about how Trump's platform hinges on fearing people like himself and his family. (Although those who have watched Master of None would probably agree that they seem like the most harmless/most hilarious family ever.) The piece is called "Why Trump Makes Me Scared for My Family," and in it, Ansari talks about the ramifications that Trump's hate speech has on Muslim Americans:
Being Muslim American already carries a decent amount of baggage. In our culture, when people think "Muslim," the picture in their heads is not usually of the Nobel Peace Prize winner Malala Yousafzai, Kareem Abdul-Jabbar or the kid who left the boy band One Direction. It's of a scary terrorist character from "Homeland" or some monster from the news.
With Trump's racist immigration policy at the forefront of his Presidential platform, the 3.3 million Muslims living and practicing peacefully in the United States are feeling more and more misunderstood and attacked because of how the Republican talks about them. Ansari notes: