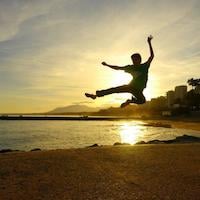 Filed by Mitchell Friedman

|

Jun 21, 2016 @ 5:40pm
It had been approximately 11 days since whatever joke writer is employed by Hillary Clinton's staff took to Twitter to fire at Donald. So on Tuesday, it was time for another zinger.
Trump has written a lot of books about business—but they all seem to end at Chapter 11.

— Hillary Clinton (@HillaryClinton) June 21, 2016
They say that you should know your audience, and Clinton's audience knows about chapter 11—bankruptcy. So does Trump, of course, who's gone through four corporate bankruptcies.
Like most comedians, Clinton tried the joke on Twitter and then, seeing it land, immediately incorporated it into her live set. The 30 second set-up starts at around the 1:47:23 mark.
(To be fair, it looks like the Twitter zing was nearly simultaneous with her use of the line in a speech at an Ohio rally.​)
The punch line hits, then Clinton nods and smiles at the revelatory crowd for a full 15 seconds before adding what is known in the comedy business as a "tag." Her line? "Go figure." Needs work, but it was an ad-lib, probably. She's more of a comedy writer than a performer.