Filed by Myka Fox

|

Jun 04, 2014 @ 3:14pm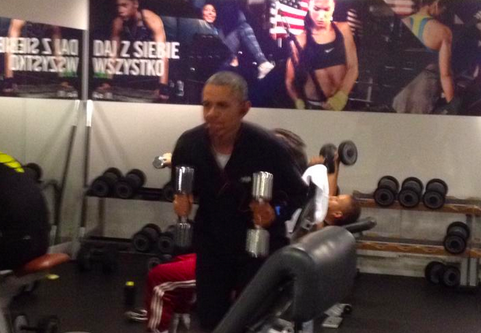 Get it, betch. (via Jean Ekwa)
Thanks to Jean Ekwa taking sly video and posting it to Facebook, we now have a first-hand account on how Obama keeps those sweet summer abs.
Of course, not everyone is impressed with how the POTUS goes monster on those 5lb dumb bells. According to John Hinderaker, self-proclaimed "lawyer in Minneapolis who occasionally writes stuff on the web," our Barry isn't the gym rat the wailing guitar riffs suggest:
For the record, what Obama was doing in a hotel gym isn't "pumping iron." Let's hope Putin doesn't see the video: http://t.co/8cfjeLvt82

— John Hinderaker (@jhinderaker) June 4, 2014

Shut up, John. Obama's going to fist fight every Russian to preserve our democracy and protect central and eastern Europe if it takes him a billion reps to get there. Haters gonna hate.
(by Myka Fox)