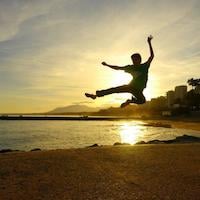 Filed by Mitchell Friedman

|

Jul 28, 2016 @ 4:45pm
While Americans argue the best way to keep Mexicans from crossing into territory that is historically Mexico, the adorable country of Norway might straight-up gift a mountain to their neighbor, Finland.
"There are a few formal difficulties and I have not yet made my final decision," said Norway's Prime Minister Erna Solberg. "But we are looking into it."
Yes. They'd just give it away. As simple as a birthday present. Actually, it is a birthday present. The mountain peak would be Norway's gift to Finland on the 100th anniversary of their independence from Russia.
The idea to move the mountain started in 2015, when retired geophysicist Bjørn Geirr Harsson started a Facebook campaign. "My idea is that this should be a gift from the Norwegian people," he told The Telegraph. "And I feel sure that the Finnish people would appreciate it."
In addition to the message of friendship, it'd also literally grow the country by some 21-feet. By moving the border "barely 40 metres further up the mountainside," officials could move a peak on Halti from Norway to Finland and give the country its new highest point.