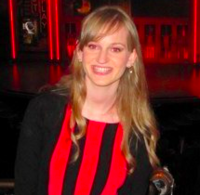 Filed by Orli Matlow

|

Oct 05, 2016 @ 9:07am
Sarah Palin, a former VP candidate herself, had an interesting observation about the debate between the current candidates at Longwood University Tuesday night. The proud hockey mom pointed out that all of the VP debates of the past two decades have been seated, with the exception of one (her own).
Her observation comes ~on the heels~ of a campaign full of sexism.
How is it that the dudes lucked out and got chairs over the last 20 years of VP debates minus one? Want a real test - try standing in 󾓖󾓖 for 90 mins #heelsonglovesoff

Posted by Sarah Palin on Tuesday, October 4, 2016
According to Palin, dudes just keep "lucking out" into chairs. It's interesting, especially considering the balancing act a woman must accomplish to appear smart without appearing preachy. In Palin's case, she was also physically keeping balance in high heels.
As the Huffington Post points out:
The anomaly is frustrating given how painful high heels are for women, who face far more scrutiny over their appearance than their male counterparts ― no matter how significant a woman's professional accomplishments may be.
Thanks, Palin, for speaking out and reminding us of the good old days.