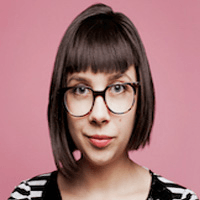 Filed by April Lavalle

|

Jul 07, 2016 @ 8:45am
Years from now, when our children read about the 2016 Presidential election, the textbooks will chronicle how both candidates regularly threw shade and *clapped* *back* at one another on Twitter. That seems to be the situation we are in until the general election in November, so buckle up, folks.
As reported earlier this week, Donald Trump tweeted an anti-Semitic image of Hillary Clinton over a backdrop of money, alongside the Star of David housing the words "Most Corrupt Candidate Ever!" It was not subtle.
Trump justified the image by insisting that star in the picture is actually just a "Sheriff's star," which would be a funny explanation for a five-year-old who doesn't know any better, but is a pretty horrifying one for a grown man who wants to run the country. In the end, Trump's camp edited the image by crudely sticking a big circle over the star, but if you think that Trump can just "Let It Go" and move on from this scandal to focus on bigger things, you are obviously not well-versed in the ways of Donald Trump.