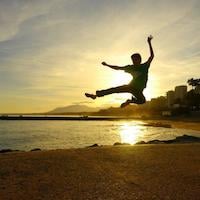 Filed by Mitchell Friedman

|

May 13, 2016 @ 3:45pm
Donald Trump does such a phenomenal Donald Trump impression, he's really, truly the best Donald Trump impersonator in the world. Except for, perhaps, a man named John Miller, or a man named John Barron—two spokesman about whom The Washington Post ran an article on May 13. They say Donald Trump used these pseudonyms to call reporters in 1991 and, essentially, brag about himself. Here's a Friday interview with Trump on TODAY responding to the Post's story.
"I have many, many people that are trying to imitate my voice and you can imagine that and this sounds like one of these scams, one of the many scams. Doesn't sound like me," said Trump, in a voice you'd be forgiven for mixing up with the voice of one John Miller. The Post reports that many people close to Trump, including reporters and his ex-wife Marla Maples, identified the voice at the time as belonging to him.
"No, it was not me on the phone, it was not me on the phone. And it doesn't sound like me on the phone, I will tell you that, and it was not me on the phone," Trump/Miller continued in Friday's interview, doth protesting.