Filed by Myka Fox

|

Aug 20, 2014 @ 10:24am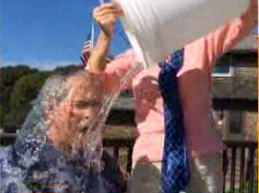 No matter what your opinion is of President George "Mission Accomplished" Bush, whether you voted for him for both terms or swore he would make you move to Canada, there is definitely something special about getting to watch the former leader of the free world take freezing water to the face.
After completing the ALS Ice Bucket Challenge herself on the Today show, presidential spawn Jenna Bush Hager nominated mom and dad to complete the challenge as well. Of course she wanted to raise money and awareness for the cause, but really it was an opportunity to see what mom Laura Bush would look like without the "helmet hair" she's been wearing since 1991.
In response, daddy President Bush made a video that at first seems like a rare moment where he and President Obama agree, claiming that "it would be un-presidential" for him to complete the challenge and that he will just make out a check.
That's when Laura Bush dumps a bucket of water on his head and declares the check is for her so that she can spare her perfect coif.
I'm assuming she means that she will donate the check for ALS, but I wouldn't be surprised if that money ended up in the hands of Texas's hardest hair-spraying stylist.
To keep the challenge moving forward, Bush nominated his "good friend" Bill Clinton to complete the challenge next. What a sweetheart.
Let's see that face one more time....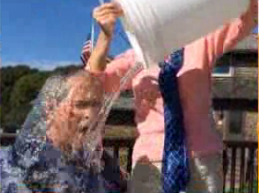 Where have I seen that before?

I nominate Batman. (Via Warner Bros.)
(by Myka Fox)