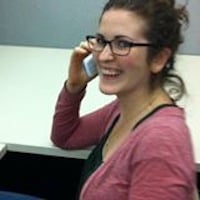 Filed by Shira Danan

|

Jun 10, 2014 @ 9:46am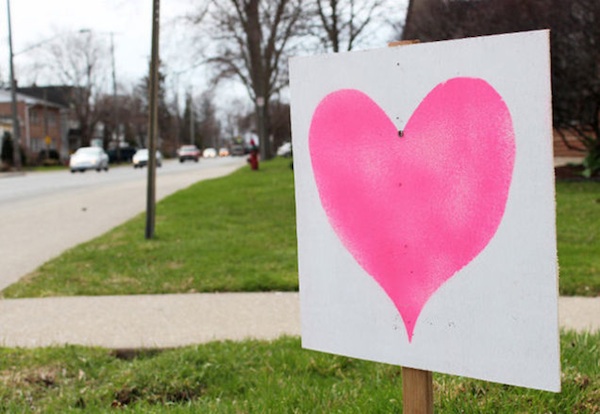 Welland is for lovers. (via Maryanne Firth, Welland Tribune)
I know it's wrong to generalize, but Canadians are so cute.
Maryanne Firth is a reporter for the Welland Tribune in Ontario. Recently, she began an investigation when she started noticing heart signs all over town. The signs were simple white squares with pink hearts painted on them, and they started popping up all over the place. Firth wrote a piece for the paper speculating that the hearts might be some kind of viral marketing or election campaign, but also might just be a "kind-hearted gesture" from an "anonymous artist."
Have you spotted the heart signs posted all over Welland? Join our conversation and post photos using #WellandHearts http://t.co/JhPNqux3ka

— Maryanne Firth (@mfirthTribune) May 5, 2014
Pretty soon, even more signs were showing up. One included an address and date. Chippawa Park, 6/8, 3pm. Firth grabbed her camera and showed up at the assigned place and time. There was a tent, and a man with a box on his head handing out flowers.
Firth writes,"A box, you ask? Yes, a box. Complete with a signature pink heart painted on it. He was handing out flowers to onlookers...then he gathered up the remaining flowers into a bouquet and turned to me. He removed the disguise. This was the man who I've loved for the past eight years. Who I've built a life with. This was all for me."
Firth began to cry as her boyfriend, Ryan St. Denis, "got down on one knee and...asked me to spend the rest of my life with him."
"Of course" she said yes.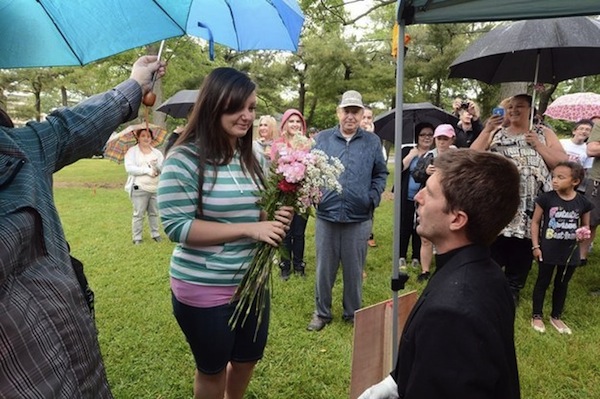 (via Facebook)
St. Denis knew Firth's "nose for news would drive [her] to unearth the secret." And yes, it also made a great story.
(by Shira Rachel Danan)