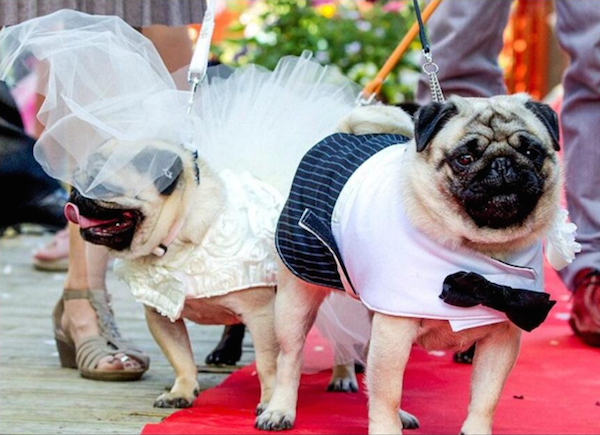 Betty having second thoughts. (via)
If you're one of those people that cries at wedding, you should probably grab a tissue. And if you're the kind of person that weeps for humanity when it seems as though we've completely lost the plot, you may want to grab a few. Because two pugs named Betty and Albert were married in England over the weekend in a £2,000 ceremony that was equal parts touching and cuckoo.
Betty wore a custom-made gown with matching panties designed by the couple's owner, hairdresser Christine Reynolds. While Albert went with a non-traditional pinstripe tux-bib combo and his ass hanging out.
Neither dog appeared to be terribly interested in the ceremony. Albert even made an escape attempt, possibly after being spooked by part of the vows where the priest talked about him getting peed on.
There was no shortage of snorting, mostly because many of the guests were also pugs, but also due to the fact that the bride wore white, even though she and Albert have lived together for over a year.
Reynolds is aware what most people would think about putting so much effort into a wedding for two animals with an IQ measuring somewhere between a chimp and a pumpkin, but said afterwards, "I am barking mad, but I know my pugs are in love so getting them married seem like the right thing to do."