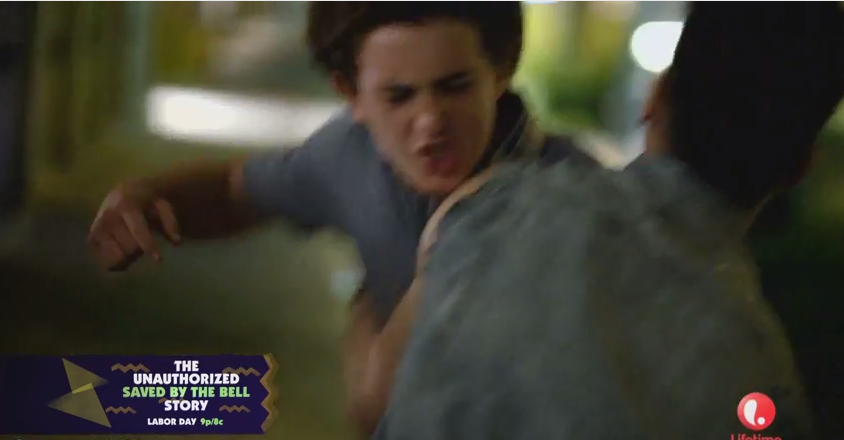 Situation is seriooooooooous.
LIfetime has come out with a second trailer for the Unauthorized Saved By The Bell Story called "Blood, Sweat, and Raging Teen Hormones," and this one has 100% more fake Screech yelling "I'm not Screech!"
In case you haven't heard, Lifetime is making a behind-the-scenes movie about the 90's kid classic, and they are basing their plot lines on scraps from Dustin Diamond's angry tell-all book Behind the Bell -- and probably filling the rest in with hearsay from the dude who worked craft service for a week. It's going to be really dramatic and stupid and perfect and I can't wait to see this steaming pile while nursing my Labor Day hangover.
In the first trailer, they leaked a small scene of the whole gang shooting some promo videos and the lust and rivalry was already sweating out onto the sound stage floor. The new trailer picks up where the last left off and then jumps around to quick, angsty scenes of angst. Fake Slater is kissing some blonde! Fake Zack might get grounded! Fake Screech punches a fan who calls him Screech, and screeches "I'm not Screech!"
And yes, fear not, they have kept Bel Biv DeVoe's Poison playing in the background. Just one more piece of evidence that the whole movie will be marinated in sweet, sweet Poison.
Don't forget. This is on Lifetime, September 1st, 9pm.
You ready, Ron? I'm ready.
(by Myka Fox)