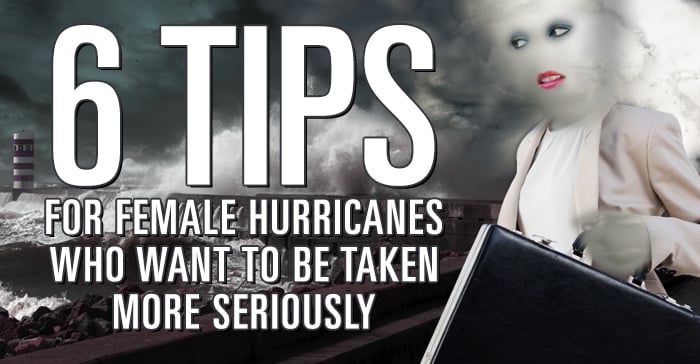 A recent study suggested that people don't fear hurricanes with female names as much as they fear hurricanes with male names. As a result, female hurricanes are up to three times more deadly than their male counterparts. Yet despite this killing power, they're still paid only $0.77 on the dollar!
So how can you, the average female hurricane, change the way lady cyclones are regarded in the office? Here are a few tips:
1. Don't worry about being a people pleaser. For far too long, female hurricanes have tried to make everyone happy, seeing their role as nurturers instead of destroyers. But as a woman hurricane, you're going to have to make decisions—decimating century-old homes, toppling levees, drowning beloved pets—that won't always be popular. Be prepared for disparaging comments from male weather systems, who may call you "bossy" or worse. Remember: they're just intimidated by your ability to cause unprecedented coastal flooding.
2. Take risks to get ahead. You were a mere tropical storm once, but you had the ambition and nerve to develop a cyclonic shape with a central eye. Just because you're a little older and wiser now doesn't mean you should stop evolving. If you've been spiraling in a clockwise direction, try spiraling counterclockwise for a change! Ask yourself if that's really the lowest atmospheric pressure you can achieve. Shock everyone by transitioning to an extratropical zone. What's a place you could make landfall that no one's thought of yet? Indiana?