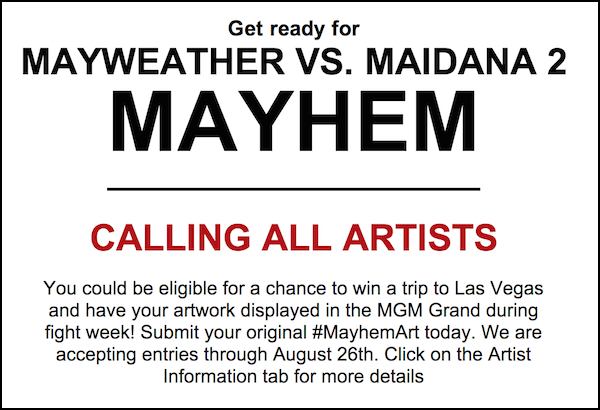 (via)
Updated 8/15/14:
A Showtime spokesperson provided the following response to Happy Place:
SHOWTIME is a strong supporter of artists around the world. This contest, like many others, is entirely optional. Under the contest guidelines, those who choose to submit their art are eligible for a grand prize of a Las Vegas trip, in addition to invaluable national exposure across multiple platforms.
Originally:
Dan Cassaro is a graphic designer and artist with an impressive body of work. That's why he was so offended after receiving an email from Showtime asking if he'd like to enter a contest by submitting a promotional design for an upcoming boxing match at the MGM Grand. Basically, work for free, with a chance of winning a trip to Las Vegas if he's lucky enough to have his art used to advertise a fight generating hundreds of millions of dollars. Fingers crossed!

Please help. (via)
Cassaro probably lit up when he read the first sentence of Showtime's email, because, normally, when you're contacted by a major television network who say they're fans of what you do for a living, they usually don't follow that up by asking you to do that very thing for free. Unless it's for charity. As Dan points out in his response email, however, promoting a televised fight featuring Floyd "Money" Mayweather Jr. isn't exactly doing God's work.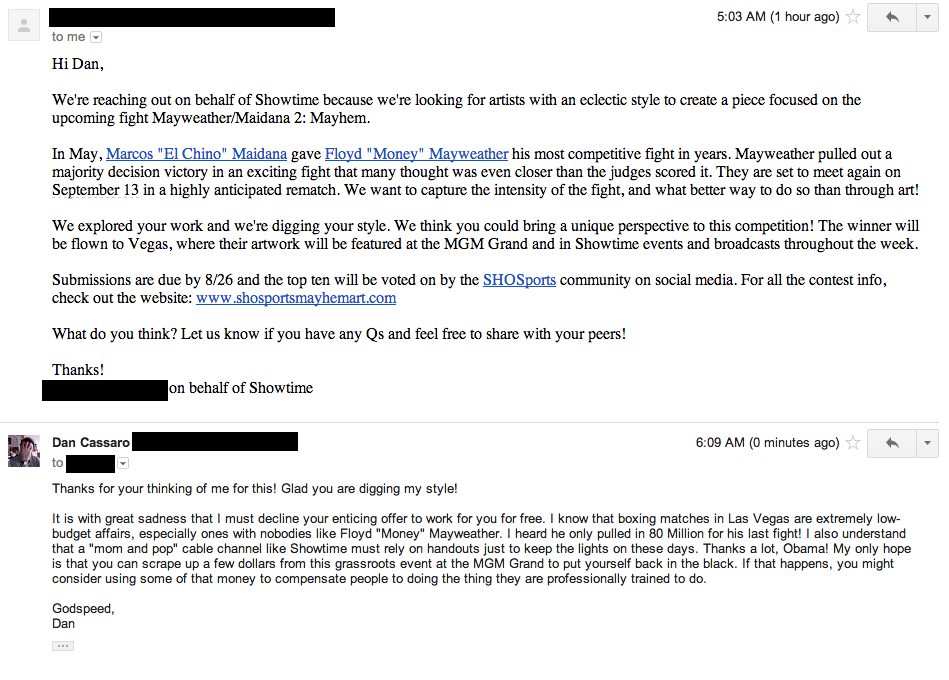 (click to enlarge)
Cassaro tweeted the original letter and his response, which went viral because it perfectly illustrates (he is a professional artist) the frustration that many creative people feel when it comes to valuing the work they do. Dan told Buzzfeed: