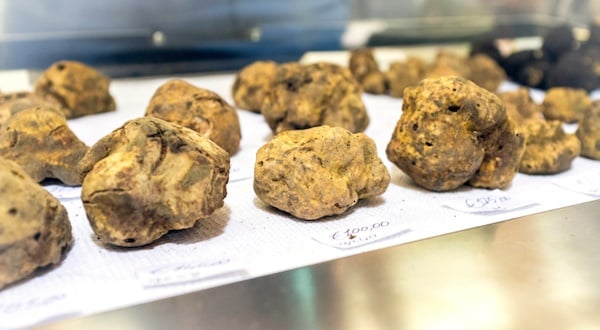 Who wouldn't be tempted to bite into what look like a bunch of rocks? (Thinkstock)

What a goof!
A woman eating at Equinox, a restaurant in Washington, D.C., thought a tray of white Alba truffles was a bunch of free samples and took a huge bite out of one. The truffles were on display in a glass case to advertise the company's vegan brunch, which includes truffle shavings for an additional $20.
White truffles are extremely expensive. The biggest one in the world at 4.16 pounds recently sold for $1 million. The bite is estimated to have cost $300.

Apparently, a big ol' bite of truffle doesn't taste that great, because the woman in question told co-owner Ellen Kassoff Gray that she didn't like the flavor. She suggested the restaurant cut off the part she bit and save the rest.
Luckily for the customer, Gray decided not to charge her for her mistake. But she obviously could have, which makes you wonder if this isn't a great way for restaurants to make money.
Stick out a tempting tray of brownish-white blobs—you could use regular mushrooms rolled in dirt—and then when a foolish patron chokes one down, inform them that they owe you hundreds of dollars. You'll look totally classy for having truffles laying around, and you'll make bank.