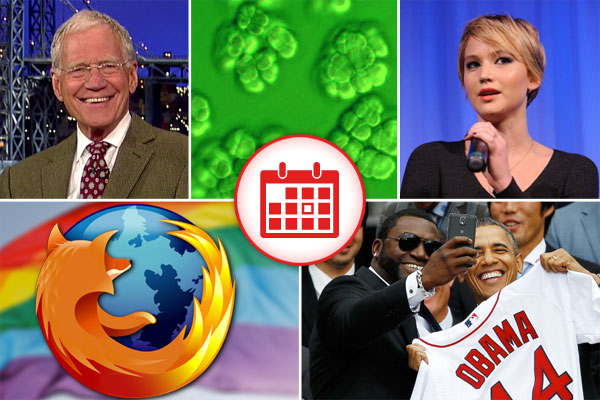 1. David Letterman Stepping Down From Late Night Spot Next Year To Make Room For Someone Much Less Interesting
According to some unnamed sources, David Letterman—who shocked and bummed out late night TV fans yesterday by announcing his retirement next year—may be feeling pressure to vacate his 11:30 time slot in order make room for a younger comedian who can more easily compete with Jimmy Kimmel, new Tonight Show host Jimmy Fallon and whatever other Jimmies are out there in the ever-expanding late night arena.
Now it's a race to see what website can get up the first "Top Ten Reasons We'll Miss David Letterman" slideshow!

— Matt Goldich (@MattGoldich) April 3, 2014

2. Prop 8 Contributor Finds Himself Victim Of Public Campaign To Take Away His Right To Be CEO Of Mozilla
Mozilla co-founder Brendan Eich was forced to step down from his new position as CEO of the tech company yesterday due to pressure from a social media campaign in response to a $1,000 donation he made to California's anti-gay marriage Proposition 8 movement in 2008. Is there anybody who can understand the pain he must be feeling at having a large group of well-organized strangers working so hard to deny something so personally important? Seems unlikely.