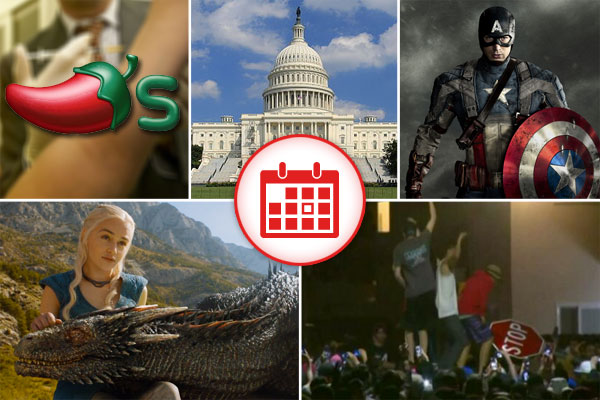 1. Awesome Spring Break Party Turns Into Even More Awesome Violent Riot
A super fun 15,000 person-strong spring break street party near the University of California at Santa Barbara shifted into high gear last night and morphed into what police are hailing as a "major disturbance, emergency situation." Several police in riot gear were injured and more than 100 revelers were arrested. Classic!
Isla Vista spring break party leads to injured deputies, arrests & hospitalizations http://t.co/W6rdf3Qdc1 pic.twitter.com/K6kv60jn9G

— KTLA (@KTLA) April 6, 2014
"Spring break is coming." - Game of Thrones: The College Years

— Rex Huppke (@RexHuppke) April 5, 2014

2. Online Pirates So Angry That HBO Let Them Break The HBO Go Stream During 'Game Of Thrones' Premiere
HBO's online streaming service, HBO Go, was running distractingly poorly for last night's Game of Thrones season 4 premiere. Thousands of non-paying consumers experienced breaks in the service that they had acquired via their parents or friends' password, many of whom flooding the channel's social media presences with outraged complaints.
Having trouble accessing @HBO GO? Send a raven. @GameOfThrones will be available soon on HBO On Demand with some cable providers.

— HBO GO (@HBOGO) April 7, 2014