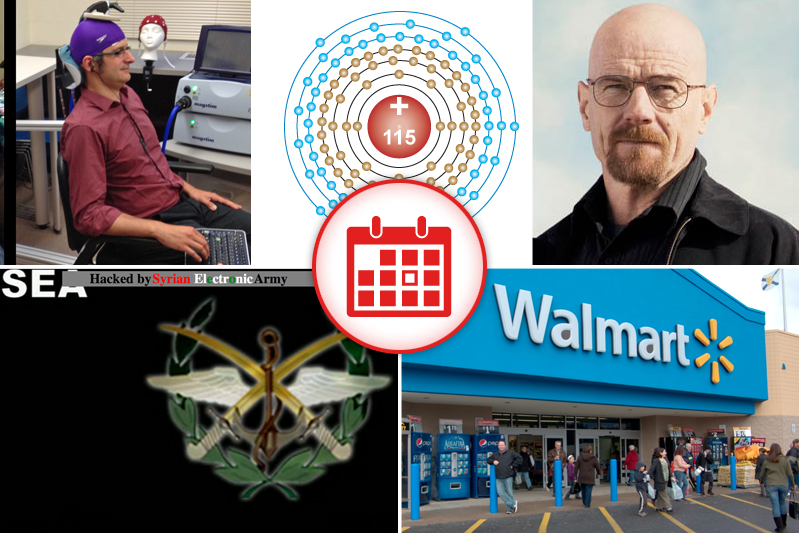 1. New Element to Join Periodic Table (AKA That Thing From The 'Breaking Bad' Credit Sequence)
A group of international scientists based in Sweden appear to have created a 115th element — tentatively called "ununpentium," which sounds slightly better than "one-one-five-ium" — by blasting an americium (95Am) film with a beam of calcium (20Ca), resulting in an element containing 115 protons for less than a second. For those confused, this is the physics equivalent of a Breaking Bad-Curb Your Enthusiasm mash-up.


2. Walmart Offers Benefits to Same-Sex Partners, Which Is Pretty Progressive Considering They Only Recently Started Offering Benefits To Its Employees
Walmart has decided to extend the health care benefits that it would really rather not have to give out in the first place to its workers' spouses and domestic partners, even if they're of the same sex. Company spokespeople say this is an attempt to create a uniform policy for locations in all 50 states, of which many have now legalized same sex marriage. Though it also seems somewhat of an acknowledgement that every American will eventually be an employee of Wal-Mart Stores, Inc..
Most people in Wal-Mart look like they could tell you where to get a baby for 100 bucks.

— Will Kane (@3rdand10) August 10, 2013