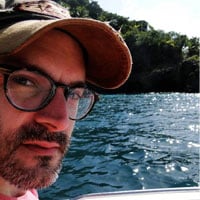 Filed by Dennis DiClaudio

|

Aug 28, 2014 @ 2:27pm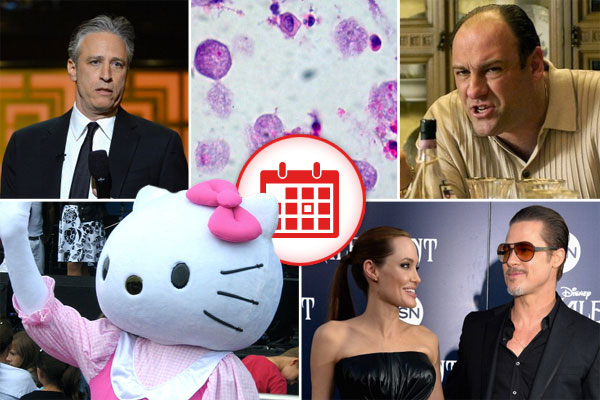 1. Angelina Jolie And Brad Pitt Finally Get Married, Probably For The Health Insurance
Nine years into their much-paparazzied and gossip-magazined relationship, Brad Pitt and Angelina Jolie were officially wed last week at their wine castle estate in the French countryside. I'm assuming that they did it so that one of them could get one the other's health insurance. That's what put most of my friends over the edge.
Thank goodness Angelina Jolie and Brad Pitt finally tied the knot and their billionaire adoptees no longer have to live in shame.

— Warren Holstein (@WarrenHolstein) August 28, 2014
"WHAT'S IN THE BOX?!?!?" - Brad Pitt opening wedding gifts

— Steve Amiri (@SteveAmiri) August 28, 2014

2. Hello Kitty Is No Cat — She's Simply A Hideously Disfigured Little Girl
It was revealed recently that the iconic Hello Kitty cartoon figure is not who, or what, we thought she was. "Hello Kitty is not a cat," a curator of an upcoming retrospective exhibit at the Japanese American National Museum in Los Angeles explained. "She's a cartoon character. She is a little girl. She is a friend. But she is not a cat. She's never depicted on all fours. She walks and sits like a two-legged creature." So, I suppose that means she's either some kind of a weird cat-like monster or a regular little human girl with a terrible facial disfiguration. Choose whichever one you think is less horrifying.
What do you mean Hello Kitty isn't a cat? Next you're going to tell me that Grumpy Cat isn't my grandpa.

— Liana Maeby (@lianamaeby) August 28, 2014

3. 'Sopranos' Creator Says Okay, Fine, Tony Soprano Is Alive, So Long As You'll All Shut Up And Leave Him Alone
In an obvious attempt to shut people up and get them to stop asking whether or not Tony Soprano died at the end of the series finale seven years ago, an exasperated Sopranos-creator David Chase gave an answer of sorts an interviewer from Vox, who asked if Tony was dead: "He shook his head 'no.' And he said simply, 'No he isn't.' That was all." Now, can we all please move on with our lives?
Can't believe David Chase finally revealed Tony Soprano isn't a cat.

— Sean Thomason (@TheThomason) August 28, 2014

4. Jon Stewart Opens Up About His Upcoming Movie That's Purposefully Not Funny, And Not Just Because It's Overly Didactic
Fake news host Jon Stewart recently sat down with The Hollywood Reporter to discuss his upcoming dramatic film Rosewater—about a Iranian journalist who was held captive by his government due to his appearance in a Daily Show segment—which most of us will feel guilty about not ever getting around to watching.
My views are my own, although they're heavily based on some stuff Jon Stewart said on TV last night, and the general vibe of the internet.

— Mark Leggett (@markleggett) May 21, 2014

5. Poor, Starving Brain-Eating Amoeba Found Cowering In Louisiana Water System
Residents of the St. John the Baptist Parish of Louisiana have been warned that their water supply has tested positive for Naegleria fowleri, a brain-eating amoeba that can cause "devastating infection" that usually results in death or the election of Rep. Bill Cassidy to office.
This morning a brain-eating amoeba entered the apt and slept on my couch. So cute! You had to be there.

— Jim Earl (@jimearl666) December 18, 2011

(by Dennis DiClaudio)