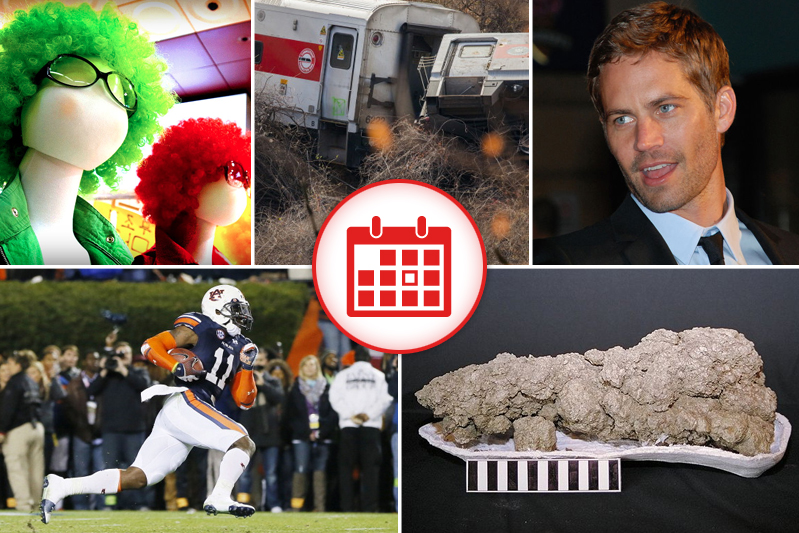 1. Archeologists Discover Toilet That Hasn't Been Cleaned in 240 Million Years
Maybe you guys will lay off your friend Mike a little now that archeologists have found a bathroom in Argentina that's in worse shape and contains even more fossilized feces than his. The 3,000-foot, 240-million-year-old restroom is filled with the rock-hard foot-long remains of a Dinodontosaurus herd's various dinners. According to one researcher, "each poo is a snapshot of an ancient ecosystem," which actually could probably also be said of Mike's leavings.
Thought about getting a job today. Also thought about dinosaur poop. I think about a lot of ridiculous things when I stay in bed all day.

— Clarke Kant (@clarkekant) April 26, 2011

2. Auburn Improbably Returns Alabama's Missed Field Goal For A Last Minute Win, As Though The Game Were Written By Hollywood's Hackiest Screenwriter
Jesus, did you see the end of the Auburn-Alabama Iron Bowl yesterday. Talk about lazy screenwriting. They actually had they nerve to have Alabama's last minute missed field goal attempt drop into the arms of Auburn's Chris Davis, who then — get this! — ran it all the way back across the the field for a game-winning touchdown. Look, let's send this game back for another draft, and hopefully come up with a more plausible ending.