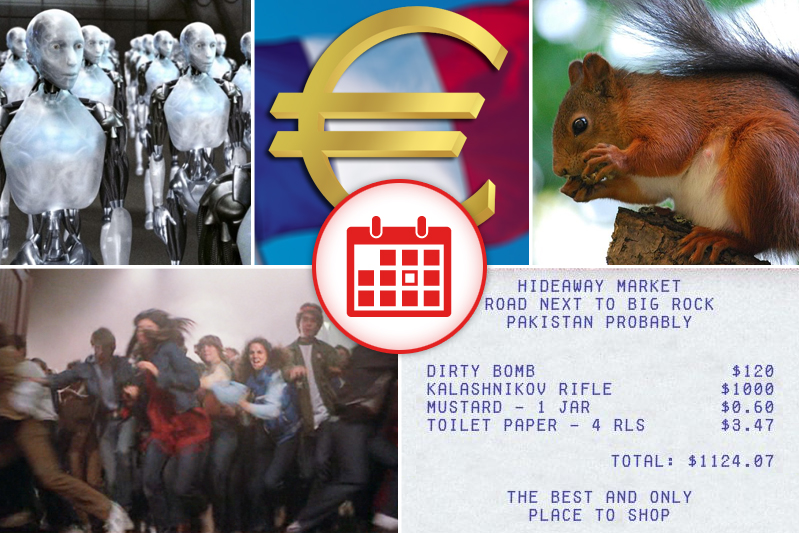 1. Wife Stabs Husband With Ceramic Squirrel, Probably Because There Weren't Any Ceramic Hedgehogs Around
A South Carolina woman was arrested and charged with domestic abuse on Christmas day after she used a ceramic squirrel to bludgeon and stab her husband because he apparently failed to return home with the case of beer he was supposed to buy. And while we can certainly blame the wife in this situation, we must ask ourselves what the odds are that this would have happened if the husband were carrying his own rodent figurine. This is why it's so important to protect whichever amendment it is that grants us the right to carry ceramic squirrels.
"Remember kids, it's never cool to do domestic violence on someone and that's...no bull." - Brett The Domestic Violence Prevention Bull

— Gavin Speiller (@gavinspeiller) December 14, 2013

2. Brooklyn Mall Invaded By Mob Of No-goodnik Teenagers
A herd of wild teenagers stampeded through the Kings Plaza Shopping Center in Brooklyn on Thursday, causing mass chaos for terrified adults, damaging property and "making trouble." Some teen experts believe that the unruly crowd was attempting to migrate to the mall under the mistaken belief that they would see the rapper Fabolous, who is apparently a real thing.