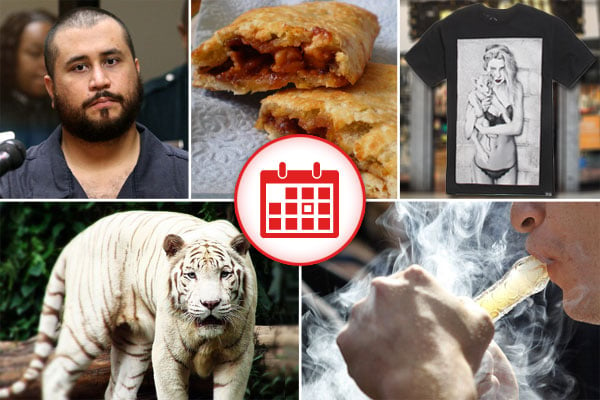 1. George Zimmerman Chased Out Of Miami By Angry Mob Of George Zimmermans
Infamous vigilante George Zimmerman was chased out of Miami last week, where his family was vacationing, by a crowd of angry vigilantes. There may even be a $10,000 bounty on his head, placed there by a misguided person who feels empowered to exact justice outside the confines of the law.
When will black Florida teens stop victimizing George Zimmerman & Michael Dunn with Skittles, Iced Tea, and Music?

— Frank Conniff (@FrankConniff) February 18, 2014

2. Hot Pockets Recalled For Being Even Worse For You Than They're Supposed To Be
Nestlé is recalling several batches of its Hot Pockets after the company became aware that the microwavable food-like products contained "diseased" meat. Customers may experience gastronomic distress after eating the Hot Pockets. More so if they're the ones with bad meat.
Hot Pockets are being recalled for possibly containing unsound meat. I'm sure this will outrage their typical, health-conscious consumer.

— Lauren O'Brien (@thelaurenobrien) February 19, 2014

3. Confused Chinese Zoo Tigers Want No Part Of Guy's Crazy Suicide Attempt
A depressed Chinese man who attempted suicide by trying to feed himself to tigers in the country's Chengdu Zoo was pulled from the confused and annoyed animals' enclosure after they refused to devour him.