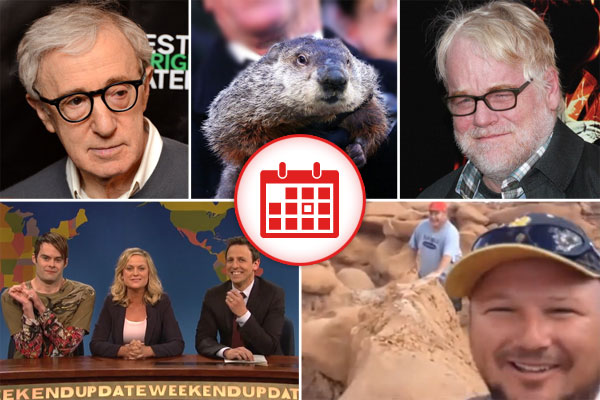 1. Groundhog Meteorologist Forecasts Six More Weeks Of Winter
After careful study and exhaustive statistical analysis, noted atmospheric scientist and rodent Punxsutawney Phil addressed the public this morning outside his Pennsylvania home and announced that he strongly suspects that we will be experiencing another six weeks of cold wintery weather.
UPDATE: Punxsutawney Phil has predicted we're all going to die a horrible, fiery death.

— Disalmanac (@Disalmanac) February 2, 2014

2. Here's Some Terrible News You Don't Want To Hear: Philip Seymour Hoffman Is Dead
Well-respected and much-beloved actor Philip Seymour Hoffman was found dead in his Greenwich Village apartment earlier today after an apparent drug overdose.
FUCK!!!!: Breaking: Actor Philip Seymour Hoffman found dead in Manhattan apartment.

— KlassyFucker (@KlassyFucker) February 2, 2014

3. Dylan Farrow's Account Of Her Alleged Molestation Making It Increasingly Difficult To Enjoy 'Annie Hall'
In case you're not bummed out enough from that last story, here's Dylan Farrow's first-person account of her alleged sexual abuse by her adoptive father Woody Allen when she was 7 years old. Last week, Robert B. Weide—the director of a documentary about the iconic filmmaker—published an alternate take on the depressing and confusing allegations.