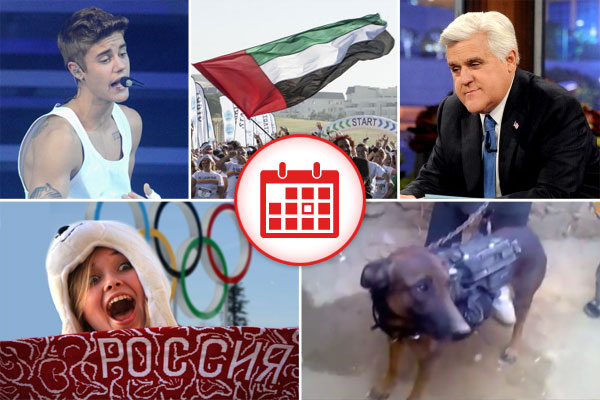 1. Shockingly Not-Shocking-At-All Details Of Sochi Opening Ceremonies Leak Online To Excitement Of Several People
Close your eyes and try to imagine what today's Sochi Olympic opening ceremonies will be like. Are You imagining crappy Euro-pop music? Are you picturing long choreographed odes to Russian history that conveniently neglect any mention of human rights crimes? Are you seeing some kind of a giant lame Russian nesting doll ordeal? Well, you guessed exactly right, according to details of the rehearsals that have been spilling online.
Nothing like pageantry of Olympic opening ceremonies: the parade of nations, the lighting of the torch, the shooting of the stray dogs...

— Tom Ceraulo (@tceraulo) February 6, 2014

2. Justin Bieber May Face Felony Charges For The Mistakes Of His Egg-Throwing Past
Los Angeles law enforcement officials are considering charging Justin Bieber with felony vandalism for egging his neighbor's house last month, which would likely land the pop singer back in jail for a third time in just a few weeks, officially winning him the coveted hat trick of douchebaggery.
Justin Bieber in Nov 2013: ?I know who I am and what I?m doing in my life... I?m happy with the man I?m becoming.? Feb 2014: "Ah, fuck."

— Beth Armogida (@BethArmogida) February 5, 2014