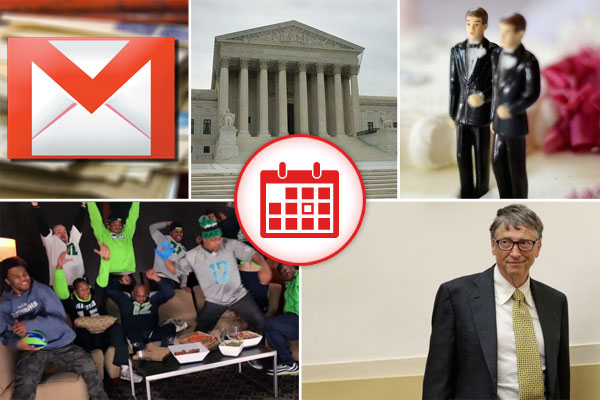 1. Oklahoma Might Make All Marriage Illegal To Stop Gays From Getting Hitched, Thus Literally Destroying The Sanctity Of Marriage
Some genius Oklahoma state lawmakers think they may have figured out a way around allowing gay people to marry each other in their state, after a federal judge ruled that a ban on same-sex marriage was unconstitutional. No marriages for anybody!
A federal judge struck down an Oklahoma ban on same-sex marriage yesterday. WAY overdue for the only state with it's own Broadway musical.

— Alex Koll (@alexkoll) January 16, 2014
2. Guy Who's Gonna Wake Up In A 5x5 Cell Beneath Microsoft's HQ Beats Bill Gates At Chess In 79 Seconds
Magnus Carlsen is supposedly the best chess player in the world. Unfortunately, he's likely going to be the best chess player under the world after he handed millionaire nerd Bill Gates his ass in a game played on Norwegian-Swedish television that ended so quickly the audience didn't even have time to get deathly bored.

Apple celebrates 30th anniversary of the Macintosh computer by calling Bill Gates' house, then hanging up.

— Mike Spiegelman (@Spiegelmania) January 24, 2014

3. SCOTUS Extends Religious Organizations' Right To Screw With Women