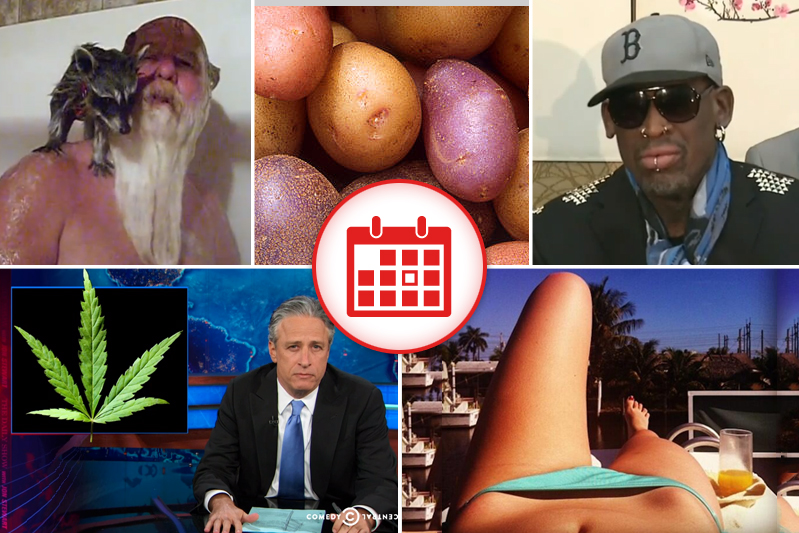 1. Dennis Rodman Sings "Happy Birthday" To His Good Buddy Kim Jong-un, Which Actually Doesn't Sound Nearly As Weird As It Would Have At One Time
Former NBA player Dennis Rodman has decided to follow up yesterday's unhinged live-TV rant in support of his good friend Kim Jong-un by surprising the North Korean leader with a heartfelt rendition of "Happy Birthday" in front of an audience of people who were obligated to enjoy it. Strong move from a guy many people thought had run out of crazy cards.
Dennis Rodman serenaded Kim Jong Un for his birthday. Next up: Whipping up a batch of freshly-baked chocolate chip cookies for the Taliban.

— Warren Holstein (@WarrenHolstein) January 8, 2014

2. The Next Governor Of Tennessee Might Be A Guy Who Showers With Raccoons... Obviously
Licensed firearm dealer Mark "Coonrippy" Brown has decided to run for governor of the great state of Tennessee for the same reason that so many other people have entered politics before him: to rescue his pet raccoon, with whom he enjoys showering, from the Tennessee Wildlife Resources Agency after she was accused of attacking a local high school's pet chickens.
When you shower, your eyeliner runs down your face, making you look like an adorable sex raccoon <3

— Trevor S (@trevso_electric) December 16, 2013