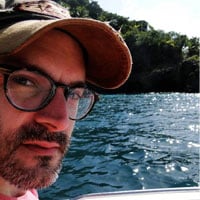 Filed by Dennis DiClaudio

|

Mar 16, 2015 @ 12:45pm
1. Accused Killer Forgets To Not Confess To Murder While Filming Documentary He Requested
Robert Durst—the millionaire murder suspect who approached documentarian Andrew Jarecki with a desire to tell his side of the story concerning a series of murders he was accused of several decades ago—kind of sorta confessed while wearing a live mic and talking to himself in a bathroom after filming. "What the hell did I do? Killed them all, of course," he was recorded saying to himself as creepily as you can imagine. The recording was aired on the mini-series finale of HBO's The Jinx just a day after he was arrested on homicide charges in New Orleans. Needles to say, he's seen better weekends.
Durst went full Gollum in the bathroom.
— Kumail Nanjiani (@kumailn) March 16, 2015
Oh, if only Robert Durst had taken the hard lessons of NAKED GUN to heart he'd never be in this mess! #thejinx
— Nathan Rabin (@nathanrabin) March 16, 2015

2. Canadian-Born Ted Cruz Eligible To Lose Republican Primary
Sen. Ted Cruz—who was born on Canadian soil in 1970 and held dual citizenship until last year—is in fact eligible to make a fool of himself trying to out-conservative other Republicans in the 2016 GOP presidential primaries, according to two former Justice Department lawyers. "Despite the happenstance of a birth across the border, there is no question that Senator Cruz has been a citizen from birth and is thus a 'natural born citizen' within the meaning of the Constitution," Neal Katyal and Paul Clement wrote in an article for the Harvard Law Review.