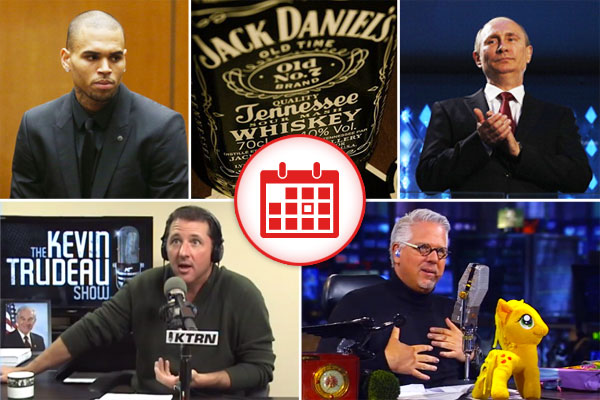 1. Putin Calls 'Finders Keepers' With Crimea
While speaking before a cheering Russian parliament earlier today, President Vladimir Putin announced that the Eastern European superpower will be annexing Crimea, which he claimed was "stolen" away from Russia 60 years ago. Must have been particularly tough since they could see it right there. Ukraine didn't even have the courtesy of hiding it in a shed or something.
Pretty sure the best solution to dealing with Putin is to ridicule him on social media. Let's go, gang!

— STEVE HUFF (@SteveHuff) March 18, 2014

2. Chris Brown Was Kicked Out Of Rehab For Touching Women Inappropriately And Probably Doing Drugs—So, Essentially For Being Chris Brown
TMZ has uncovered the alleged reason that Chris Brown was forced to leave a court-ordered rehab center and return to prison. The R&B singer—who has had issues with domestic abuse in the past—apparently violated a rule against coming into close contact with or touching women. He also left the facility for a night against orders and refused a drug test upon returning. Funny, that tactic usually works like a charm.
Chris Brown is only 25? It feels like he's been fucking up for decades.

— ben schwartz (@benschwartzy) March 14, 2014