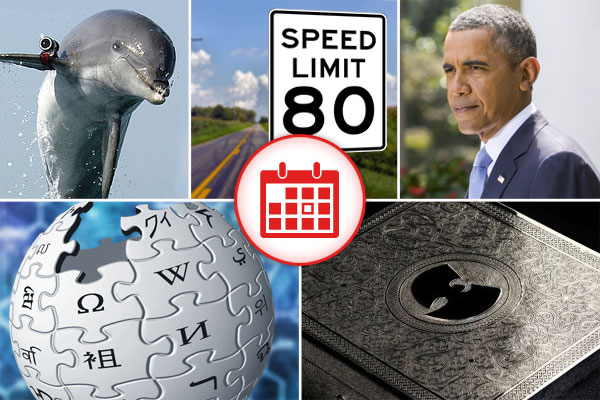 1. Russia Has Stolen All Of Ukraine's Good Espionage Dolphins And Left Them With Just The Dumb Ones That Do Back Flips
While taking control of all Ukrainian military installations in Crimea, Russia has in effect stolen the Eastern European country's entire spying dolphin program, which is based in the now-Russian city of Sevastopol. These highly-intelligent mammals are said to be capable of skewering divers with harpoons strapped to their backs and delivering explosives to enemy sea vessels, which might be a little more useful than jumping through hoops.
The scariest member of The Illuminati is the dolphin.

— Jill Morris (@JillMorris) January 11, 2014

2. Barack Obama Comes Impressively Close To Making A Coherent Argument For Why The U.S. Can Criticize Russia's Action In Crimea
Before zipping off to the Vatican for an audience with Pope Francis today, U.S. President Barack Obama spoke before an international audience in Belgium yesterday and, in all honesty, came damn near close to effectively covering America's invasion of Iraq in a thick enough veil of bullshit to almost make his administration not seem like a bunch of raging hypocrites for so vehemently opposing Russia's annexation of Crimea, which literally did welcome Russian troops with open arms. Damn impressive effort.