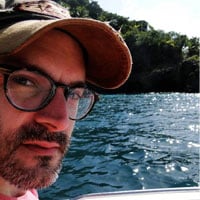 Filed by Dennis DiClaudio

|

May 18, 2015 @ 12:18pm
1. 'Mad Men' Finale Gets Unanimous Thumbs Up From Coca-Cola's Board of Directors (Probably)
AMC's groundbreaking period drama series, Mad Men—the story of one man's decade-long journey through life and love en route to creating the world's most iconic television commercial—drew to a close last night, leaving heartbroken fans thirsting for a show equally as cool and refreshing.
"Nooooooooooooooooooooooooooooo!" -Pepsi, watching the Mad Men finale
— Aaron Fullerton (@AaronFullerton) May 18, 2015

2. Obama Taking Away Local Police's Ability To Defend Themselves Against Invading Armies
Barack Obama is announcing a ban against the federal government providing military-style assault rifles to local police departments. This sounds like a recipe for disaster to me. I can't imagine how a police officer is supposed to enforce jaywalking statutes without a semi-automatic Zastava M70AB2 rifle with a pistol grip in his hand.
BREAKING: Obama announces military invades Texas as part of Jade Helm exercises, rounding up all Tea Partiers and giving their guns to ISIS.
— Top Conservative Cat (@TeaPartyCat) May 8, 2015

3. Real Life Briefly Turns Into Episode Of 'Sons Of Anarchy'
Nine people are dead, 18 are injured and another 165 are behind bars after a massive brawl between three rival motorcycle gangs broke out in a Waco, Texas restaurant yesterday. Chains, knives and guns were all used as the melee spilled out into the parking lot and police became involved. The really sad part of all this is that it is likely to give the town of Waco a bad name in the public eye.