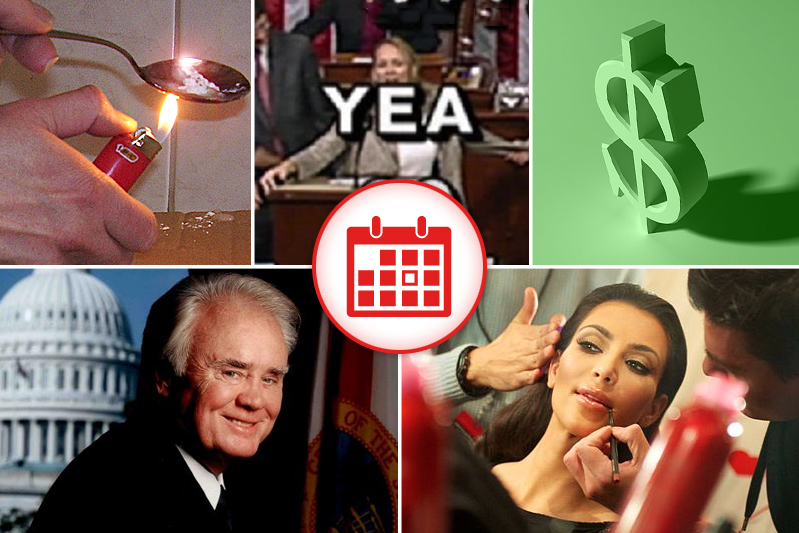 1. Substitute Teacher Had A Really Good Reason For Falling Asleep During Class — He Was Super High On Heroin
A 26-year-old Pennsylvania substitute teacher fell asleep right in the middle of a class he was supposed to be teaching on Wednesday, which we'd have to guess is totally against the substitute teacher's code, assuming there is one. But, in his defense, he had a really good reason. He had just done a bunch of heroin before the school day started, and that stuff really wipes you out. Sure, he could have not done the heroin before teaching kids. But, hey, let he who is without sin cast the first stone.
"Just a splash of heroin please. I don't want to get hooked."

— Hugh Moore (@Hugh_Moore) October 17, 2013

2. Fox News Reports Death Of Congressperson Who Hasn't Gotten Around To Dying Yet
It would appear that Fox News, in its effort to be the most up-to-date-iest news source on basic cable, managed to scoop real life on the story of Rep. Bill Young's death. Anchorperson Gretchen Carlson yesterday reported that the Florida legislator, who's currently "gravely ill" but not quite deceased, had passed away. They later issued an on-air apology for being so much faster than reality, but not before MSNBC repeated their error apparently without verifying the story for themselves, because that's how cable news works.