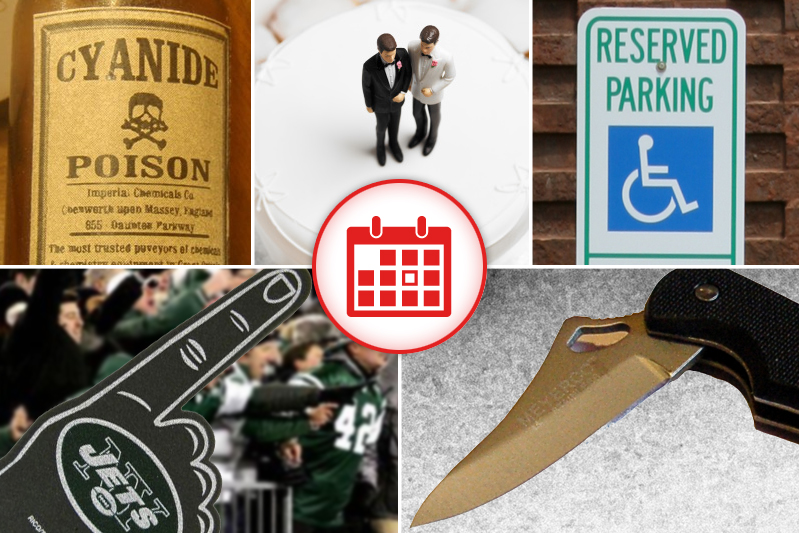 1. New Jersey Braces Itself For Absolutely No Consequences As Gay Marriage Becomes Legal
At midnight last night, Newark mayor (and senator-elect) Cory Booker, along with other mayors and officials across New Jersey, began marrying gay couples as marriage equality officially became state law. Based upon occurrences in other states following marriage equality, Garden State residents are preparing themselves for a shitstorm of barely noticing a difference other than once in a while hearing a dude casually refer to his "husband."
Booker: "alright, it is officially passed midnight. Marriage is equal in New Jersey." Cheers in the rotunda. pic.twitter.com/UaFQwEGfV5

— Ruby Cramer (@rubycramer) October 21, 2013
When gay marriage haters say it will lead to humans marrying animals, they always lick their lips sexually before saying "slippery slope."

— Keating Thomas (@keatingthomas) October 6, 2013

2. Asshole Quadriplegic Has The Audacity To Parks His BMW In A Handicapped Spot
Some jagoff in Grand Rapids, Michigan who lacks the use of both his arms and legs returned to his BMW after a game of wheelchair rugby at the local YMCA to find an angry note from some brave person who called the quadriplegic to task for parking in a handicapped parking space that could have gone to a sexiplegic, or maybe even an octoplegic. "I would love to see your wheelchair! I'm guessing male 25-35 years professional who thinks he's got the world by the ass," the note-leaver wrote, before adding, "But I could be wrong." Always a good thing to add on at the end, because, you know, you don't wanna come off like an presumptuous douchebag.