1. Mumford & Sons Going On Hiatus From Looking Like Train Conductors While Playing Instruments
The Grammy-winning collection of mustache wax prospectors and unicycle repairmen known as Mumford & Sons announced yesterday that they will be going on indefinite hiatus, presumably to work on inventing some sort of mechanical flying contraption. Fans will just have to content themselfs with gramophone recordings of their musical engagements.
When I see the headline "Bad News For Mumford & Sons Fans" I assume the bad news is "your favorite band drowned in quinoa."

— Rex Huppke (@RexHuppke) September 22, 2013

2. Joe Biden's Stressful VP Job Just Too Much For His Extended Family To Handle, Niece Battles Booze And Pill Addiction
Caroline Biden — apparently unable to handle the immense amount of stress that comes with being the daughter of the sibling of the Vice President of the United States — was arrested earlier this week after attempting to punch a New York City police officer and is allegedly struggling with an addiction to alcohol and pills. "The pressure of being Joe Biden's niece made her totally unravel," a friend explained, presumably straight-faced.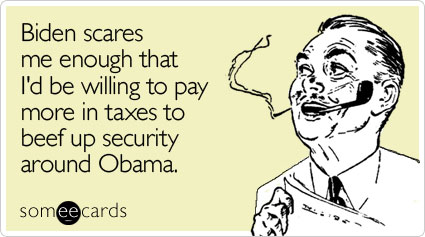 3. Transgender Teen Makes History By Winning Antiquated High School Popularity Contest, Crowned Homecoming Queen
Marina High School in a relatively conservative area of Orange County, California became the first high school to crown a transgender girl as its homecoming queen. After winning the popularity contest, the teary-faced 16-year-old Cassidy Lynn Campbell graciously explained that she selflessly did this not for herself, but for all of us, saying, "I am so proud to win this not just for me, but everyone out there." Just like a good homecoming queen is supposed to. (She had previously posted a video of her daily "Boy to Girl" transformation routine to her YouTube account.)
I used the correct pronouns talking about a transgender person, but then I got WAY too proud of myself for that.

— Barbara Holm (@barbara_holm) September 19, 2013

4. Some Of The New $100 Bills To Actually Be Worth Some Real Money
Before tossing the soon-to-be-released newly-designed $100 bills out your car window with the rest of your worthless junk, you might want to check the serial number. If it's a "fancy" number — like "33333333," "43210987" or "31415927" (pi) — some currency collectors could be willing to buy your bill for something in the neighborhood of $1,000, which today is the worth approximately what $100 was worth a few years ago.
The Federal Reserve is releasing a newly designed $100 bill this October. So everyone get ready for when you still never see $100 bills.

— Erik Bergstrom (@Erik_Bergstrom) April 25, 2013

5. Here, You Fat Piece of Shit: McDonald's Testing Chicken And Waffles In California
McDonald's is apparently testing chicken and waffles as a breakfast menu item in one of its Fullerton, California locations. No word yet on whether it will become a morning option nationally so that you can make fun of it to all your friends and then shove it into your face when you're all alone.
Food combinations like chili fries or chicken & waffles were invented by people tripping while carrying food I think.

— Tractor_Shartner (@Blarebare) July 25, 2013