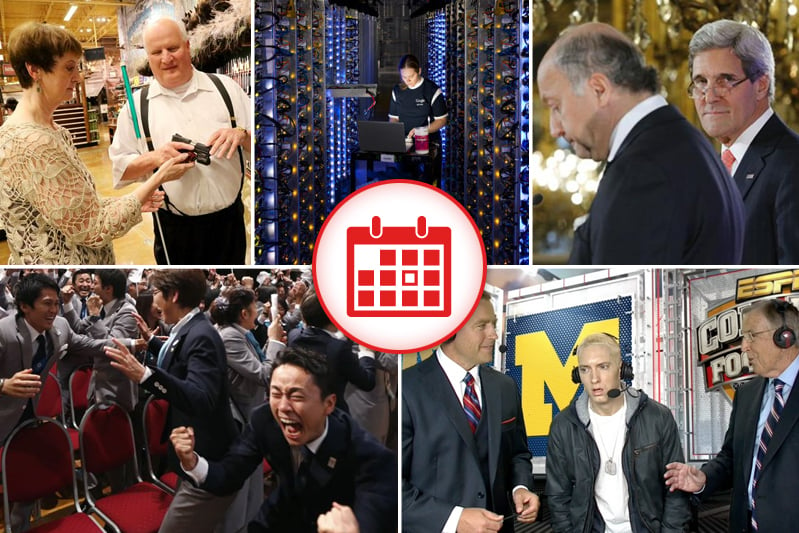 1. John Kerry Lives The Dream, Gets To Deliver Boring 8-Minute Monologue In French
While attempting to seal the deal with one of the few countries who will likely follow the U.S. into war with Syria, John Kerry was given the opportunity to speak, uninterrupted, for eight minutes in front of a captive audience of French politicians and members of the press, who were helpless to do anything about it. And he got to do it in French! This is the exact moment he was gunning for during all that time he spent lobbying to be Secretary of State. He can now die un homme heureux.
Remember when John Kerry tried to be President? HAHAHAHAHAHAHAHAHAHAHAHAHAHA #HAHAHAHAHAHAHAHAHAHAHAHAHAHA

— Hari Kondabolu (@harikondabolu) September 6, 2013

2. Google Attempts To Protect The User Data It Sells To Advertisers From The NSA
Google is trying to encrypt the data it collects to create those invasive conversation-specific advertisements on the side of your Gmail screen, so that the NSA can't see it and use it for its own non-revenue-generating intelligence purposes. Though its efforts will likely not make it impossible for intelligence agencies to screen, Google is hoping to make it considerably more difficult, so that when its users discuss the mechanics of pressure cookers they'll only have to contend with ads for Presto® brand kitchen appliances and not sudden knocks at the door.