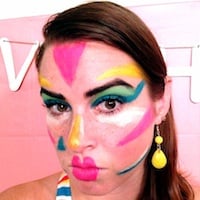 Filed by Ashley Bez

|

Aug 19, 2015 @ 11:30am
As promised, the people who hacked Ashley Madison have released a full list of everyone who signed up on the site.
Ashley Madison, the cheating website for married people owned by Avid Life Media (ALM), was hacked last month by a group called Impact Team. The hackers threatened to release user data unless the site was taken down. And guess what? ALM didn't take down the site, so Impact Team delivered the data. The hackers released names, addresses and phone numbers for users, as well as a four-digit code that could be either partial credit card numbers or just user numbers.
Related: In (dis)honor of Ashley Madison, here's the best of partners caught cheating on other networks.
The data is available on the Dark Web, which is as haunting as it sounds. Basically, it requires software and technical knowledge that I don't have, but the information is available, and some genius tech nerdos are probably poring through the leaked names at this very moment.
This is the statement the hackers released with the steaming pile of cheaters in the data dump: