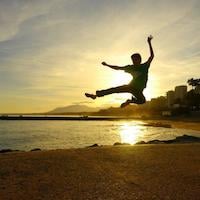 Filed by Mitchell Friedman

|

Jun 24, 2016 @ 3:50pm
Crocosaurus Cove in Darwin, Australia, allows what most sane humans will agree is a too-close look a saltwater crocs—especially considering the most photogenic attraction is referred to as the "Cage of Death."
A photo of that ill-advised cage is going viral because the size of the animal is insane, and because the commenters "find it strangely fitting that you can place yourself within feet of freaking Godzilla in a place called Darwin..."
According to the uploader on Reddit, the crocodile is around 17 feet long, and hungry for human blood. Just kidding about the blood. As you can hear from the following video, the crocs eat chicken and fish. They also snap at the glass, and it's terrifying.
In addition to the horrifying submerged glass case, Crocosaurus Cove also lets visitors ogle the reptiles from behind the walls of a more traditional aquarium, hold baby crocs, and visit the turtle sanctuary in case you're less of a psychopath.