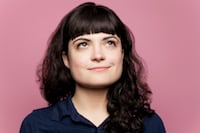 Filed by Jaime Lutz

|

May 31, 2016 @ 2:11pm
Comedians Eva McEnrue and Mel Owens got New Yorkers to read the last texts exes and hookups sent them, and the results are really depressing. "I'm not going to pretend it's working." "I'm not sure I can do that again. After all, I'm still technically married." And maybe the worst of all: "I just wanted you to know that I'm making $100,000 a year now."
Today the duo released part two. That's right: a whole 'nother round of texts that don't deserve a response. Oh God, the "secret boyfriend" move. The venmo move.
Yup, they're better off.